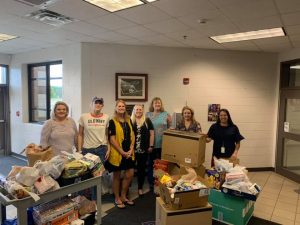 Thanks to the generosity of our amazing CLC family, our ministry has been able to further stock the Clear Creek Middle School Student Food Pantry. This pantry was a major goal for the school and we are so grateful that our community helped provide so many food items for the students at Clear Creek Middle School.
        Thank you to the churches in the community that have made contributions to this project. We are so thankful for the love that your congregations have shown to students in our school system who need love the most. Thank you also to everyone who donated food items at our annual banquet in September. Many churches, businesses and families showed an outpouring of love for our students on this evening and a portion of the food that was collected the night of the banquet helped stock the CCMS food pantry.
If you would like to plan a food drive for your church for 2020, please email Jennifer@gilmerclc.org.