Thank You for an Amazing 11th Annual Run for the Son!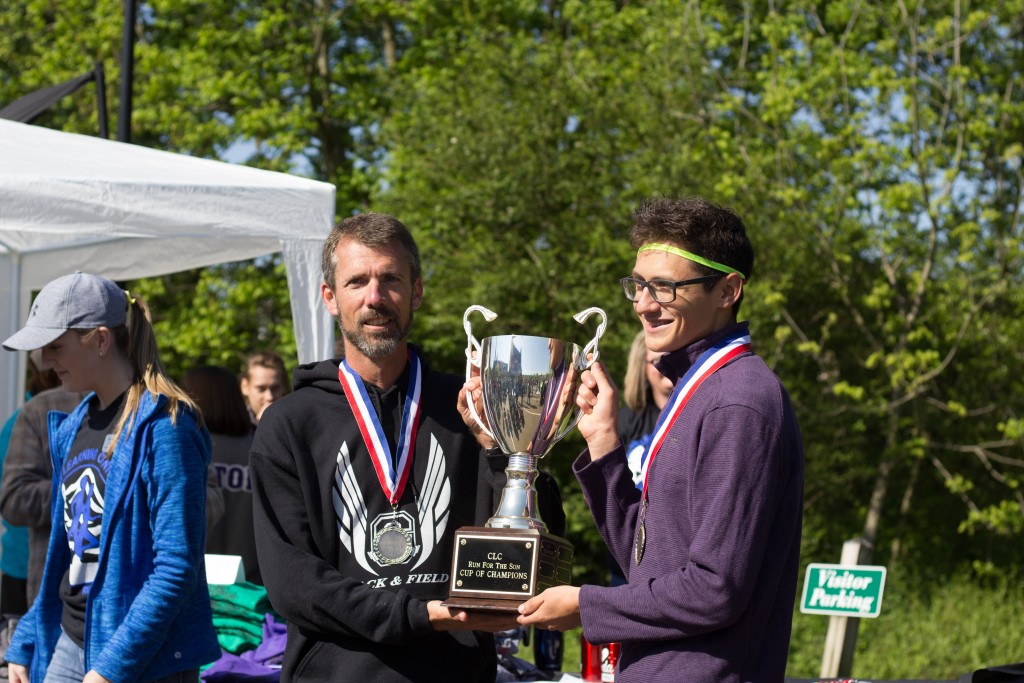 The 11th Annual Run for the Son 5k which was held on May 6th, 2017 was a huge success thanks to all of our Runners, Sponsors, and Volunteers.
Luke Stolz and Denise Hoek were the overall race winners.
Clear Creek Middle School took home the Cup of Champions, the trophy awarded to the team with the most active participants on race day. The team accepted the trophy in memory of Doris Sanford.
Pleasant Grove Baptist Church accepted the Cup of Legends, the trophy awarded to the team with the most registered participants.
We are so thankful to all of the Sponsors and Volunteers that made the 2017 Run for the Son possible. Without these generous businesses and individuals, it would not be possible to put on events like the Run for the Son or to minister to the students of Gilmer County.
Thank you to our sponsors!
Platinum Level:
Appalachian Photography
Candra Warren, State Farm Ins.
Doug & Jan Hall
Hensley CPA
In Memory of Frank Vaughan & In Honor of Jean Vaughan
J&M Contractors, LLC
KAM Contracting
Laura Huster
On Grade Excavation, LLC
Gold Level:
Chick-Fil-A of Ellijay
East Ellijay Family & Cosmetic Dentistry
Emuel Sanford: In memory of Doris Sanford
Kaleb Frady
Pepsi Co.
Tina Mabry: Coldwell Banker High Country Realty
Silver Level:
AdvoCare Independent Distributors, Jessi & Brian Barton
Community Bank of Pickens County
Dairy Queen
Gene & Dianne Neal
Holly-Faith Apartments
Huff's Drug Store
Hwy 515 Auto Auction
Joyful Journeys, LLC – Lisa Lacey
Logan Funeral Home & Chapel
Logan Sawmill, Inc.
North Georgia Christian Academy
Riverside Drugs
Ronnie Thompson Ford
Sparks Lumber, Inc.
Terry Lee Wilson, LLC
Thomas Oil Company
Times Courier
United Community Bank of Ellijay
Bronze Level:
Aaron's
Absolute Best Tire, LLC
Ace Hardware & Furniture Co.
Berean Baptist Church
Bernhardt Funeral Home, Inc.
B.J. Reece Orchards
Bryant Physical Therapy
Cartecay Thrift Store
Charles & Opal Corbin: In Honor of Rex Corbin
Chela S. Bailey RE/MAX Town & Country
David Spivey's Body Shop Inc.
Ellis Equipment Service
Food Lion
Gilmer Co. Farm Bureau
Jerry's Body Shop
Lendmark Financial
Mike's Ellijay Restaurant
Mosley Tractor
North Georgia Computer Brokers, LLC
Paul & Diane Nealey
Payne Insurance
Sanford's Garage
Sears
Singleton Food Services: Subway
The Orchard Church
Twin City Motors, Inc.
Wal-Mart
Other:
Affinity Med Screens
BB & T
City Barber Shop
Dance ETC.
Ellijay Hometown Florist
Robert Westmoreland
Medical Billing Partners
Our Daily Bread
We are so grateful to everyone who sponsored our race this year. Our supporters make the ministry at CLC possible. Because of the businesses, organizations, churches, and individuals who support the 5K, our yearly banquet, and provide vital monthly support, we are able to serve the students of Gilmer County. Your prayers and sacrificial giving make an eternal difference. We are excited to be starting our 5th grade class in August and are progressing on our Clear Creek facility. Please join us in thanking our sponsors for supporting our ministry and making a difference in the lives of teens in Gilmer County. Thank you!