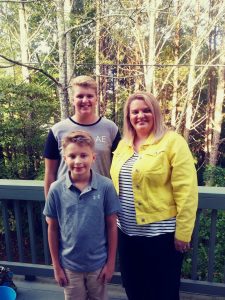 A New Perspective
As a teacher and staff member of the CLC, I get to witness the effect this ministry has on students. Every year, I see students make decisions that have an earthly and heavenly influence. I have seen hundreds of students come through its doors and at the end of the year, I am always left asking myself the same question, "Did we make an eternal impression?"
This year, I finally got to witness firsthand the eternal imprint the CLC has made. Besides being a teacher, I am also a mother of two former CLC students. My oldest son, Joshua, took Intro to CLC with Mr. Buddy and my middle son, Nathan, took the fifth-grade class with Mrs. Sherri. This year, I have witnessed both of my sons grow exponentially in their relationship with Christ.
Every evening, Joshua would tell us what Mr. Buddy taught that day and because of his teaching, Joshua started studying things like how we are sanctified in Christ, and how Christ was the atonement for our sins. Nathan would share with us how Mrs. Sherri was helping him realize his identity in Christ and how he was created in God's image.
When I started witnessing this growth in them, I realized that my husband and I can only lead our sons so far spiritually. It also takes the faithfulness and guidance of other believers to help these students along their spiritual walk. In my two son's case, it was the CLC.
I am eternally grateful for the impact the CLC has had on both of my sons. Knowing how much they invest in the life and spiritual walk of students and how much they care and love each one, is worth more than anything the world has to offer.
As a teacher, I am truly blessed to be part of a ministry that goes out of their way to reach every student possible with the love, grace, and mercy of Jesus Christ. And, as a mother, I am truly indebted to the CLC for the eternal impact they have made on my family.
-Kristin Taffin
Advanced CLC Teacher