The Things We Take With Us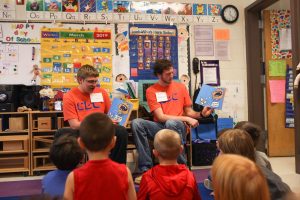 For students like Bennett Ray, the Christian life just makes sense. "It's been kind of a staple in my life," Bennett says about his walk with Jesus. "I've always been in church."
Despite having had a great biblical foundation laid for him at church and at home, Bennett says that his time in CLC has helped him find new meaning in the Bible stories he has heard over and over again–especially in the conversion of Paul. Bennett mentions that, this semester in Advanced CLC, he was particularly struck by this story in a way he had not been before. Saul's salvation story and conversion to Paul wasn't just a commonly-shared Bible story anymore. It was evidence to Bennett that God can completely change your life in an instant.
Bennett is getting ready to graduate from Gilmer High School. He plans to go to college and get a degree in Agribusiness. Bennett says that he wants to take what he has learned during his time in CLC and use it to keep him on the path of walking with God.
Common Ground
Olivia Thompson, another senior in Advanced CLC, life mirrors a similar story. Olivia notes that she, too, was raised in church but that her faith has gotten stronger as she has gotten older.Between preparing for college, work, and participating in sports, CLC has become a relaxing place for Olivia to come during her school day.
"You come here and no one is in a bad mood," Olivia says. "Everyone is genuinely happy to be around each other."
Olivia only has a few more weeks left in her high school career before she graduates and goes to the University of North Georgia to major in nursing. For Olivia, her time at CLC is something that has helped her solidify the firm foundation she has in Jesus. It has been a reminder that, no matter what hardships she goes through, God is going to be by her side to lead her through the difficulties.
A New Beginning
Leah Griggs says that her story and her time in CLC looks completely different from her classmates' stories and experiences. Leah isn't trying to hide the girl she was before CLC–she was very far from God. Leah says that the girl she was when she first entered our building is completely different from the girl she is today. Something happened one day when Leah was in Intro to CLC and she knew that it was God who had given her life. Leah knew it was time to hand her life back over to God.
"No one said it was going to be easy," Leah says. "But if I had never came here, I never would have been saved and I never would have become… me."
Leah is looking at getting a degree in education and says that she would love to come back and work at the CLC some day. To Leah, everyone deserves the opportunity to attend CLC and she would love to have the opportunity to share the Gospel with students like her teachers have with her during her time at CLC.
Hope for Tomorrow
The things students take with them into life after graduation can often just seem small or like a cute story that makes us feel good inside if we don't treat them with special care. It is so easy to look at a wide-eyed senior with big smiles and even bigger plans for their future and focus more on what they don't know about life than what they do. It is so tempting to think back on we were there age, smile, shake our heads and say, "They just don't even know yet."
It's true. Try as they might, a senior in high school just can't fathom everything life holds as they hold before them the clear-cut road map of what they think life will be.
But when we talk to our students about their time in CLC, one thing couldn't be more evident: they already know what is most important. They may not know who they will become, but they know Whose they have always been.
When we look back on our lives, maybe we can say that our identity was firmly staked in Christ at age 18 or maybe we can't. As believers, we can all rejoice with students who are stepping into this next chapter that will be most of their life knowing that God is their rock and His truths remain certain even when life is uncertain. We can celebrate the foundation they have discovered and encourage them to stand firm in their faith as they come to better understand who God has called them to be.
When we move to a new season in life, there is a lot of clutter that gets left behind. The things we choose to take with us are the things that shape who we are. As our seniors leave us this semester, we are so proud of the truths they are choosing to carry with them. We invite you, our CLC family, to join us in praying for each of our seniors as they enter this new season of life.