Run for the Son '15 – A Huge Success!!
We want to thank everyone who came out to our 5K Saturday, May 2 and ran, walked, and volunteered.  It was such a fun day and such a blessing for our ministry.  We are so grateful to all the sponsors who made the event possible.  Run for the Son is one of our largest fundraisers.  The race, banquet, and monthly donors make CLC possible.  We are not funded by the school and do not receive government support so we rely on your generous donations.  We were very blessed to have such amazing sponsors this year for our race.  Please make sure to thank our sponsor next time you visit their business!
Our Run for the Sun was the most successful yet!  We had almost 160 racers participate in the 1 mile fun run and the 5K!!  Our racers loved  running through the new downtown location and the new set up at the First United Methodist Church.  The first person to cross the finish line was local track coach Tommy Jones with a time of 17:49.  Luke Stoltz was seconds behind him and their competition helped make the race very exciting.  Everyone had a great time!
For race times go to www.fivestarntp.com
The Gilmer Christian Learning Center
Thanks our 2015 Race Sponsors!
Gold Level
Cindy West/ REMAX TOWN & COUNTRY
East Ellijay Family & Cosmetic Dentistry
North Georgia Christian Academy
Silver Level
Candra Warren: State Farm Insurance Co.
Chick-Fil-A
Hall's Tree Service
Hannah Frady
Huff's Drug Store
Kaleb Frady
Lisa Lacey, Joyful Journey, LLC
Logan Funeral Home & Chapel
Mitchell & Paulette Morgan
Nancy Sauls
North Georgia Computer Brokers
PEPSI
Rex's Pest Control
Southside Express Lube
Sparks Lumber, Inc.
Star Energy, LLC
Superior Building Products
Thomas Oil Company
THRIFT
Times-Courier
Bronze Level
ACE
Anytime Fitness
Appalachian Tree Works
Bernhardt Funeral Home, Inc.
Blushing Beauty Lounge
Brenda Evans
Calvin Rolan/Edward Jones Investments
Charles Edmondson State Farm Insurance Agency
Coldwell Banker High Country Realty
Community & Southern Bank of Ellijay
Community Bank of Pickens County
Dairy Queen
Ellijay Fitness
Ellijay Tire
ENDLESS INK: Tiffany Camp Watson
Gilmer County Farm Bureau, Inc.
Hayes Tire & Service Center
Holly Faith Apartments, Inc.
HWY 515 AUTO AUCTION, INC.
Jerry's Body Shop
Kayann Hayden West, Attorney at Law
Larry's Body Shop
Logan Sawmill, Inc.
Marvin Chance/ R. L. Jennings & Assoc.
Mike's Ellijay Restaurant
NAPA
OKI JAPANESE STEAK & SUSHI
Paul & Diane Nealey
Payne Insurance
Sanford's Garage
Sear's
Spivey's Body Shop
Twin City Motors, Inc.
United Community Bank
WALMART
West Point Farms
Other Sponsors
Affinity Med Screens
Apple A Day
Appalachian Supply Co.
Barbara's Hair Designers
Bear's Garage
Bob Worley Insurance
Cartecay Thrift Store
Charlotte L. Davis
Clark & Clark Attorneys at Law
Crossroads Grocery & Deli
Dance ETC Studio
Double L Log Cabin Grill
Dr. Deborah Swanberg/Envision a Chiropractic Healing
Five Fifteen Building Supply, Inc.
Hair Dimensions
Holt's Drive Thru
Hometown Florist
Ingles
Johnson Nursery
Logan Life & Health Insurance Agency , Inc.
Lori Wetzel – Hair Stylist
Mark Queen Salon
Medical Billings Partners LLC
Moo Bears Ice Cream & Treatery
Mr. P's Take Out Food
Piggly Wiggly
Robert Westmoreland/ Insurance Agency
Ronnie Thompson Ford
Thank you!!!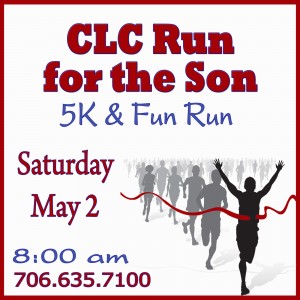 9th Annual Run for the Son – 5K
Saturday, May 2, 2015
This year our race will begin and end at the First United Methodist Church.  We will be running a great course that is flat and running through scenic Downtown Ellijay, GA!  Run for the Son 2015 Traffic Plan (2) (to see the race course!)
USATF Certified course!
Packet Pick up:  7:00am
Fun Run: 8:00am
5K:  8:30
Entry Fee:
$20 before 4/26
$25 after 4/26 and day of race
Groups of 10+: $18 (before 4/26)-mail in only
Family of 4: $60 (before 4/26)-mail in only
Phantom runner: $20 (before 4/26)-receives shirt but does not run.
or print the 2015 Registration form  and mail it to P.O. Box 471 Ellijay, GA 30540 by 4/26.
 Goodies:
*T- Shirt guaranteed to all pre-registered runners
 *Awards to Overall Men & Women
 *Awards to Masters Overall
 *5 year age groups 10 & under thru 65+
 *Great finish line food and fellowship!
  *Door prizes after the race!
To Sponsor the Race or donate a door prize contact Jennifer Colson at jennifer@gilmerclc.org or call Debbie at 706.635.7100.  For Sponsor information click: Race Sponsor levels and Sponsor form 2015
Thank you for considering sponsoring our 9th annual Run for the Son – 5K.  All proceeds go to offer free Bible classes to public school students as well as counseling and mentor programs at no charge to students and families.
Our 5K is an opportunity to raise awareness about the CLC and to raise funds so that we can continue helping students and families and expand our programming.
We have served over 5,000 students in the past 30 years!  God has blessed us and we want to continue to glorify His name for the next 30 years!